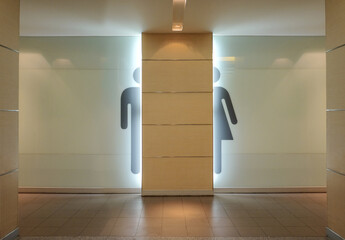 "A federal judge has temporarily blocked Tennessee's transgender restroom law, which requires businesses to post a specific sign if they allow transgender people to use bathrooms that match their gender identity.
In her ruling Friday, Judge Aleta Trauger of the U.S. District Court for the Middle District of Tennessee wrote that even if there was a compelling interest in allowing patrons to know a business' bathroom policies, business owners could simply disclose that information when asked.
"There would certainly be no need to dictate the precise language required for the notice, the precise size and location of the disclosure, or that the sign have a red-and-yellow, warning-sign color scheme, as if to say, 'Look Out: Dangerous Gender Expressions Ahead,'" Trauger said.
The Tennessean, NBC News, Courthouse News Service and the Huffington Post covered the decision.
Last month, the American Civil Liberties Union filed a federal lawsuit on behalf of Kye Sayers, owner of the Sanctuary Performing Arts and Community Cafe in Chattanooga, and Bob Bernstein, owner of Fido restaurant in Nashville. Sayers and Berstein did not want to post the message required by the new law, which took effect on July 1. According to Courthouse News Service, the sign must read in boldface, block letters: "This facility maintains a policy of allowing the use of restrooms by either biological sex, regardless of the designation on the restroom."
The sign must also be posted at the entrance of locker rooms and dressing areas.
The two business owners asked the judge to issue an injunction blocking enforcement of the law while their lawsuit proceeds against Tennessee State Fire Marshall Carter Lawrence, Director of Code Enforcement Christopher Bainbridge and two district attorneys. While the defendants have said an injunction would harm the state and public interest, the judge disagreed.
"The First Amendment holds its privileged place in our constitutional system because, 'whenever the Federal Government or a State prevents individuals from saying what they think on important matters or compels them to voice ideas with which they disagree, it undermines' both 'our democratic form of government' and the very 'search for truth' necessary for a thriving society to persist," Trauger wrote. "Because that principle retains its vitality today, and because the law at issue in this case is a brazen violation of it, the court will grant the plaintiffs' motion for a preliminary injunction."
This article was originally posted in the ABA Journal.
To read the rest of the article click here.