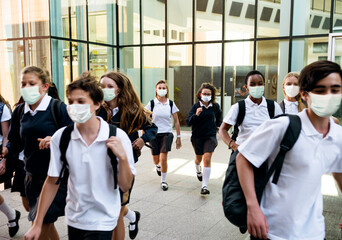 "A federal appeals court on Monday upheld a federal judge's refusal to block a mask mandate in a challenge brought by a Catholic elementary school in Lansing, Michigan.
The 6th U.S. Circuit Court of Appeals at Cincinnati ruled against the Resurrection School and two parents who challenged the mandate as a violation of their religious freedom.
How Appealing links to the Aug. 23 decision.
The school's lawsuit had contended that masks hide faces "made in God's image and likeness."
"Jesus made seeing the other a priority," the suit contended.
The Washington Post and Reuters covered the lawsuit allegations in stories published last month.
The order by the Michigan Department of Health and Human Services, which has since been lifted, required all people over age 5 to wear a face mask in public. Exceptions were made for eating and drinking, swimming, visiting a doctor, socially distanced speeches, religious services, medical intolerance to masks and outdoor exercise.
The school and the parents argued that the mask order violated their rights to free exercise, equal protection and due process.
The 6th Circuit said the mask challenge was not moot because the order could be reimposed, and the controversy is capable of repetition.
The appeals court then determined that the order was neutral and of general applicability because it applied to all elementary schools. As a result, the appeals court said, the order need only satisfy a rational basis test, which requires the mask order to be rationally related to a legitimate government interest. The more rigorous test rejected by the court would have required the government to show a compelling governmental interest in justifying the order.
Under a rational basis test, the school's the constitutional claims fail, the 6th Circuit said."
This article was originally posted in the ABA Journal.
To read the rest of the article click here.